CounterPath Joins Alianza to Deliver a Full-Stack Cloud Communications Platform
Combined company will look to change the cloud communications landscape with enhanced tools that enable people to connect, communicate, and collaborate.
LEARN MORE
Add Unified Communications Without Replacing Your PBX
Extend the investment in your call server by adding services for team messaging and video conferencing, and mobile capabilities, with Bria® and Stretto™ Platform solutions.
LEARN MORE
Communication and Collaboration Apps for the Modern Workforce
Bria® makes it easy for individuals, teams, enterprises, and resellers to find a unified communication and collaboration solution that suits their business needs.
START A FREE TRIAL
Add unified communications on top of your existing voice services.
Connect Bria with any SIP-supported call servers or VoIP providers.
Bria is your interface for business-class communications
Access your lines of communications no matter anywhere you are.
Secure Communications
Encrypted voice and messaging keeps your communications private.
Any Device
From desktop to mobile devices, Bria lets you take your communications anywhere.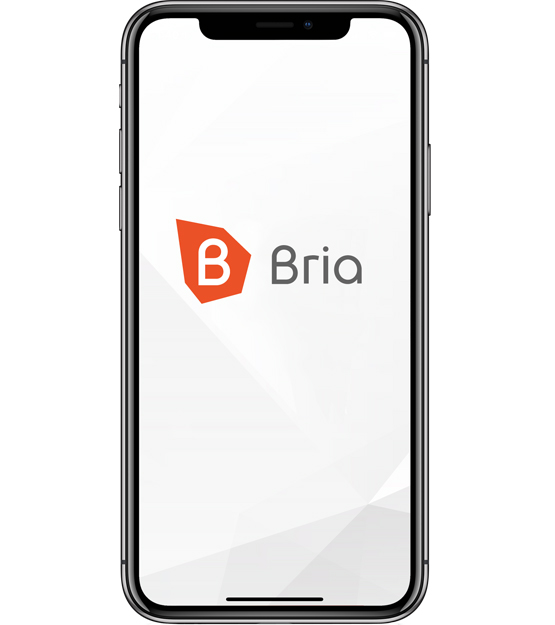 Develop or customize Bria
Every business communicates differently – Bria respects this, providing tailored solutions that streamline your communication and collaboration experience.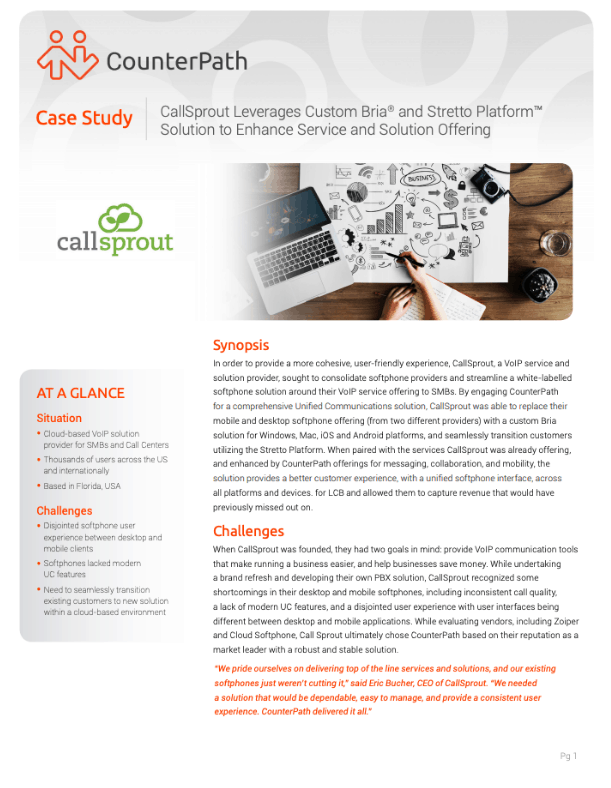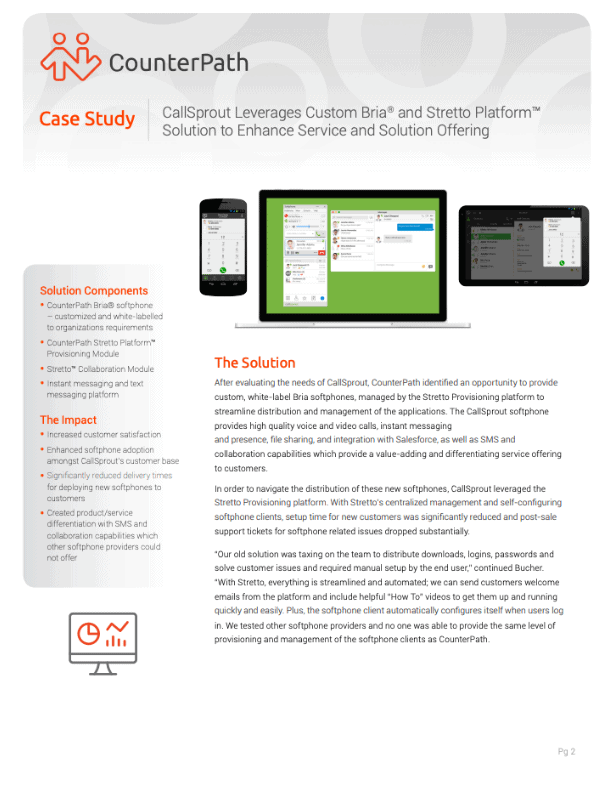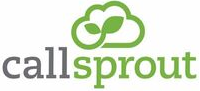 ``We pride ourselves on delivering top of the line services and solutions, and our existing softphones just weren't cutting it. We needed a solution that would be dependable and easy to manage and provide a consistent user experience. CounterPath delivered it all.``
Download case study
See how Bria modernizes communications
Gazelle evolved their clients' stopgap measure solution with CounterPath. Future-proofing their unified communications

CloudCall provides computer telephony integration to CRM software, with a specialty in call

Ubefone is a cloud telephony and VoIP operator based in France. Due to
Start Communicating with Bria
Download and try Bria for free! No credit card information required.
Start a Free Trial