X-Lite is now Bria - for teams and individuals
The era of X-Lite has come to and end, making way for superior softphone solutions with Bria Teams for teams and Bria Solo for individuals.
START A FREE TRIAL
X-Lite isn't gone, it just has a new name – and a lot more features
Bria Teams for
SMBs and Internal Teams
Looking for a solution for your business or team? Look no further! Bria Teams combines support for multiple SIP accounts with team communication and collaboration services from CounterPath, making it the ultimate business UC solution.
Bria Solo for Individuals

A best-in-class softphone to pair with your VoIP service to make and receive calls.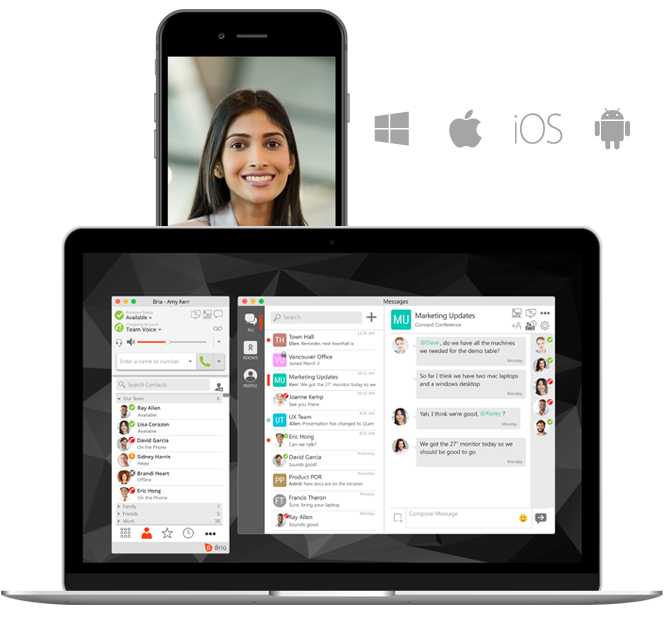 Why do our users love Bria?
``Solid Softphone for SIP calls``
The largest benefit to this software is convenience and cost effectiveness. Bria is compatible with many third party applications and most SIP providers will offer configuration support. The combined softphone and USB headset cost is much less than a VOIP phone / headset combo and has no desktop footprint.
``Simply the best``
Besides the obligatory upgrade + smaller issues with transferring calls, my overall experience is overwhelmingly positive. We've used another softphone provider before and simply switched over completely to Bria after an endless road of issues. That road has come to an end now, and we're very happy with Bria.
``Secure, reliable softphone``
I have been using Counterpath products, including Bria, for nearly five years. It is a great, solidly performing, secure softphone. I love that Counterpath is always on top of updates and security patches for their product. This is my number one priority for a softphone. Bria is affordable, lightweight, and easy to use.
Frequently Asked Questions
What is the difference between Bria Solo and Bria Teams?
Bria Solo is a stand-alone softphone solution that needs to be paired with a call server or VoIP service to make calls, while Bria Teams comes with a CounterPath-hosted Team Voice and Team Messaging service for intra-team communication and collaboration. Bria Solo is targeted towards individual users for personal or business use, where as Bria Teams is for internal teams and small businesses.
What is the difference between Bria Teams and Bria Enterprise?
Bria Enterprise is an enterprise-grade UC solution for small to mid-sized enterprises, service providers, and channel partners. While it has similar services to Bria Teams like messaging and video conferencing, it does not include a team voice service and instead is meant to be paired with a call server or VoIP service. Additionally, the configuration for voice accounts and settings is limited within the Bria Teams portal, so organizations looking for Active Directory integration, sophisticated dial plans, and further customization should explore Bria Enterprise.
What are Virtual Meeting Rooms?
Virtual Meeting Rooms are a part of the CounterPath-hosted collaboration service. They provide:
Unlimited HD audio and video calls, with hosting capabilities for up to 200 participants
Integrated screen sharing with participants
An integrated messaging panel within the conference session
Access for web-based participants to join from any device with a web browser
Access for dial-in participants, with localized phone numbers for 75 locations in 46 countries
What would I need to start an immediate work from home solution with one of your Bria products?
That depends on what your unique business needs are as far as daily communication is concerned. For most small businesses, Bria Teams would be ideal for keeping in touch with colleagues, and using web-based voice or video conferencing to meet with external contacts. For businesses with greater outbound calling needs, like call centers or sales teams, a VoIP service or call server is integral for making calls outside of the organization. This could be used with either Bria Teams or Bria Enterprise, depending on the size of the deployment.
[/vc_section]
Compatible with market-leading call servers and VoIP services
Start Communicating with Bria
Download and try Bria for free! No credit card information required.
START A FREE TRIAL