A softphone is a piece of software that allows users to make telephone calls over the internet via a computer or smartphone. It has all the features of a desk phone and typically expands the range of services you can access on a desk phone. Most importantly, a softphone allows you to take your work phone with you wherever you go. It can be installed on a laptop, tablet or smartphone which allows you to leverage the same powerful performance and connection your work phone has. It facilitates mobile working, as you can continue to work on the portable device that you're carrying with you.
A softphone runs on most devices and platforms. You can get softphone software that runs on Macs, Windows devices, Linux devices, desktops, laptops, tablets, smartphones and more. Most softphones can also run from a web browser. As long as you have a microphone and speaker, you will be able to connect from wherever you are.
A softphone uses software to mimic the functionality of a desk phone on your screen. The technology behind the software is VOIP (Voice Over Internet Protocol) – which is the technology that allows you to make voice calls over the internet. All of the features of the phone are written into the software providing a friendly and intuitive experience while making a call. Instead of struggling to remember which button on your phone disconnects a call or transfers a call, you can use a drag and drop interface on your laptop to connect your customer to an associate, put a call on hold, or direct a call to voicemail when you're occupied.
A softphone not only mimics the features of a desk phone, but it also brings a wealth of additional functionality, with the features you're familiar with – transferring calls, hold, multiple lines and voicemail. It also comes with powerful new additions like presence, transferring calls to a colleague who might be in a different city or at home and notifications about incoming calls with rich information about the caller. You can also access a shared contact directory, keeping your personal contacts personal, but can share your corporate directory right in your softphone.
One of the core advantages of a softphone is portability. You can run a softphone on your desktop, smartphone and tablet and can enable setup rules that ring your desktop or your smartphone as per your schedule. For instance, you want your morning calls at your desk computer but during afternoon or over lunch, calls can come directly to your smartphone. This flexibility means that you can work from home or while travelling with all the powerful tools you have at your desktop. You can stay in touch while in a meeting and know what calls and messages are coming through with a quick glance to your smartphone. If there's an important client call you're waiting for, you won't be stuck at your desk waiting on your phone to ring. Softphone can be a tool to empower your mobile workforce, as it allows you to take your workplace with you wherever you go.
If you have staff that travels, works from home or works from remote locations, the ability to take your work phone with you is a powerful advantage. You can be at an airport lounge or at your home office and still have a call forwarded to you allowing you to work on the go. Since a call can be placed at the same available contact information, clients can reach out to their key contacts whenever needed or contact team members even if they are on the move.
A key advantage of a softphone system is that you can keep your team's cell phone numbers private. Your team will no longer have to share their personal cell phone numbers and use up their data minutes for work. They can install the softphone software on their smartphones to receive and place calls. They can also control their availability with settings to identify when it's time to focus on family or personal time. When they set their status to away, the work phone won't ring, but will go directly to voicemail, or be routed to another available individual. Using a softphone, your team can also place outgoing calls from their smartphone that display to your clients and partners as though they are coming from a work phone. So that your team not only leverages the convenience of their device or smartphone of choice, but also avails the security and professionalism of a work number.
Keeping Cell Phones Private (Tracking and Compliance)
Another key feature of softphones is that they are typically provisioned by a central cloud based server system. As an employer, you can track calls and manage team communications from a single dashboard. If you're bound by compliance to log when calls are made and how frequently, this can be a boon. This is because it takes away the rigorous manual data inputs that you'll need your team to fill out. Instead these details can be tracked from the server. You can automatically log when calls are placed, track duration, numbers called and get enhanced statistics. Moreover, if you have a team member on a vacation or sick leave, or a situation that demands role change, you can capture all the incoming calls to their number and direct them to another team member who's available for the task. This way you won't have angry customers leaving repeated messages on the cell phone of a team member who is enjoying some well deserved beach time or recovering from illness under the covers.
Softphone Installation (What Do You Need)
The core requirements for a softphone to work are:
a PC or laptop with microphone and speakers, or a headset. You can also use a modern smartphone or tablet
You'll need a strong bandwidth or internet connection
You'll also need to setup an account with a service provider and download a software program that enables your softphone
If you're the technical type and want to know the bits and wires that power a softphone, most systems run on VoIP and use a few protocols to make their connections. Session Initiation Protocol (SIP) was one of the first protocols that was created to allow voice calls over the internet on VoIP. VoIP is the layer that allows a voice to be converted to information and sent across the internet. SIP is the protocol that allows you to dial numbers, see if someone is available, conference a 2nd line in and all of the other features that a typical phone system would do. Extensible Messaging and Presence Protocol (XMPP) was created a little after SIP, and is more focused on the Instant Messaging and presence part of softphones. Most software allows you to call, video chat, message and see if a user is online or offline. The video/messaging/presence is the strength of XMPP while the calling/connecting/continuity is the strength of SIP. They share the majority of features, but depending on the profile of your organization you may want to research further on SIP or XMPP as a provider or find a solution that blends both options. Inter-Asterisk Exchange (IAX) is a more modern protocol built on the Asterix platform that again provides similar features. AIX has a binary versus a SIP which has a plain text protocol. If you've read this far and your eyes are glazing over — no worries.  Find a softphone provider and they'll take care of all these details for you.
Why You Need a Softphone (Advantages Over a Desk Phone)
There are a number of features that a softphone provides that have a significant advantage over a desk phone.
Shared contact lists
You can subscribe to a company contact list, or share your contacts with coworkers. If you've ever tried to find the cell phone number for a client that you know your colleague has, this is a tremendously useful feature.
Presence
Softphone systems show when your team is online and offline, as well as when they are busy or in a meeting.  Instead of sending a message and waiting for someone to respond – when they're getting a coffee, away at lunch or in a meeting, you can quickly identify when someone is available or not. In addition, you can see when they're in a meeting or on a call and reach out through instant message to see if they can respond to a quick request. Presence empowers you to make good communication decisions when reaching out to your team, thus boosting productivity.
Instant messaging
There are many ways to send a text message, but centralizing communication into one stream that is managed through your soft phone means it's easy to find, search and collaborate. If you've ever browsed through tons of texts, emails and other services to find out the date someone sent you a file or a delivery number — you know they sent it yesterday, but can't remember how they sent it to you, you'll love having all your work messages and communication in one place.
Video calls
Most of us are familiar with video calls through various services on our mobile phones or laptops. But the ability to connect with a colleague through a video call on a work phone is great way to communicate. Video calls provide the flexibility you need to connect with your team and communicate through the right medium at a moment's notice. You can also see when your team is available through presence, send an Instant Message to confirm it's a good time and then open a video call, all on the same service. This helps to streamline your team communications effectively.
Portability
Softphones allow you to take your communication with you wherever you go.  You can run calls from your laptop, tablet or smartphone. You're not tethered to your desk, waiting for an important call. You can head to the gym, get lunch or attend an important meeting or step out just when you need to address that important call. You can also keep tabs on communication wherever you are and respond to colleagues quickly through text or a video call – wherever your travels take you.
Voicemail
Voicemails are a great improvement on softphones, allowing you to get an audio file pushed directly to your email, or as a push notification on your mobile phone.  You can get transcription of the contents of the audio file. So if you're in a meeting, you can quickly skim through the message, identify if it's urgent and worth stepping out of the meeting, or if you would like to follow up later.
Changes
If you've run multiple phone lines, ordered desk phone hardware and contacted support teams to get a new phone line installed and a new extension programmed into all your existing phones, the idea of a few clicks in a web interface to add a new phone line will seem like magic. The fact that a new phone line is automatically added to all existing contact lists on your system, with a searchable name will add to the experience. Configurations through a cloud server system can happen anywhere with the right login credentials. You can add or remove lines, update information from wherever you are – no technical team required.
Softphones for Enterprise (Key Features)
Another important advantage of softphones is that they empower your team with all the expected tools of a modern workplace. Technology is advancing rapidly. And our expectations as consumers is that we should be able to access everything at our fingertips from the convenience of our smartphones. Your employees of all ages are most likely expecting more from their workplace and want a solution that allows them flexibility in the way the communicate with each other and with clients.
Some of the key features that teams love in a softphone are:
Drag and drop call transfers
Visual Voicemail
Voicemail in email
Incoming call and voicemail notifications on their smartphone
Presence
Video calls and conferences
Easy instant call bridges
Switching from music to calls quickly with the same headset
You have a team of smart people working for you. Empower them to work efficiently with a softphone that allows them to get an instant access to all their office communication tools and collaborate easily. Modern cell phones and laptops are tools we carry with us wherever we go and softphones allow you to bring your work phone along with you, wherever your travels take you. In short, providing softphone systems allow your team to work the way they expect to.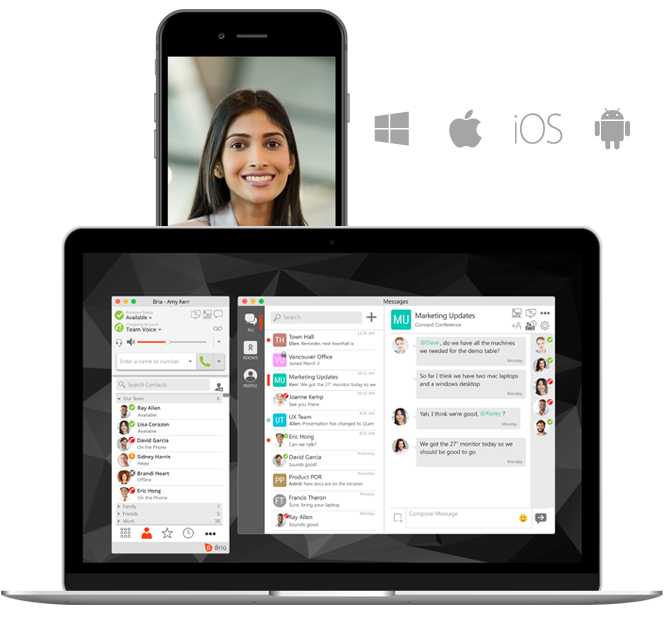 Inspired to create a modern workplace? Start by future-proofing your business communications with Bria Teams. Leveraging the award-winning Bria® softphone technology, it offers a complete VoIP business phone system that enables your employees to access all the communications channels in one place. From high quality, secure voice and video calling to private and group chat, real-time screen sharing, presence and tons of other features, Bria Teams enables your employees with more dynamic ways to communicate. Setup is easy and you can manage your team from one convenient dashboard. Competitively priced starting at $3.95/month per user, you can try it free for 30 days!
Have further product or pricing questions?
Get in touch with our team today.