Bria Solo is the New
X-Lite Softphone
Combining voice and video calls in a user-friendly interface, CounterPath Bria Solo softphones help you seamlessly transition from a traditional phone environment to the world of Voice over IP.
START A FREE TRIAL
Unified Communications softphones for individual users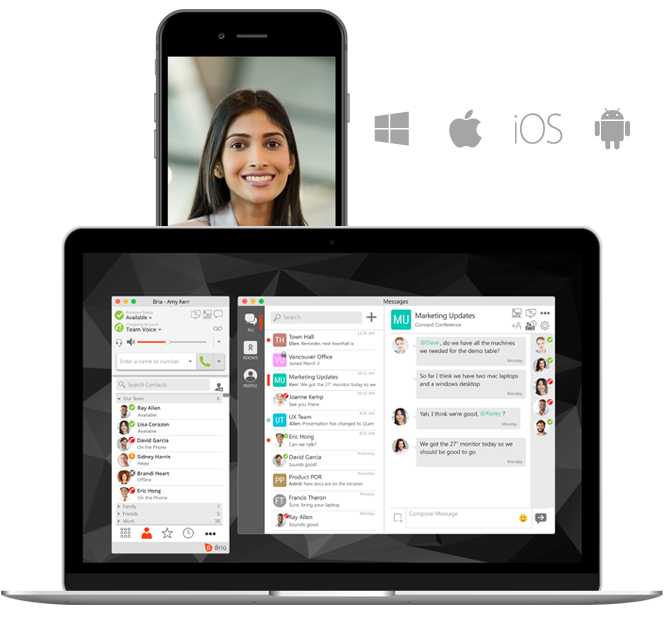 Powerful Softphone
Features
Bria Solo provides desktop and mobile softphone applications that facilitate best-in-class calling and robust call control features. Whether used for inbound or outbound calls, Bria makes it easy to integrate contacts from various sources, streamline communications, and manage calls from one easy-to-use interface.
More on softphone features
Select and integrate with your service provider
Try Enhanced
Features for 21 Days
Enjoy HD calling support, apps for multiple devices, integration for up to 5 accounts, and more FREE for three weeks. After the trial ends you can choose to subscribe to keep all premium features, or be automatically downgraded to Bria Solo Free, an experience similar to our legacy X-Lite solution with single account and device support, and standard definition calling only. The choice is yours.
Compare features between Bria plans
Advanced Integrations
& API Support
Bria Solo lets users integrate their address books with Google and Microsoft Outlook, as well as iOS and Android contacts. Additionally, users can leverage the Bria Desktop API to further customize their application use. (Paid version only).
More on Bria Desktop API
Why do our users love Bria?
``Solid Softphone for SIP calls``
The largest benefit to this software is convenience and cost effectiveness. Bria is compatible with many third party applications and most SIP providers will offer configuration support. The combined softphone and USB headset cost is much less than a VOIP phone / headset combo and has no desktop footprint.
``Simply the best``
Besides the obligatory upgrade + smaller issues with transferring calls, my overall experience is overwhelmingly positive. We've used another softphone provider before and simply switched over completely to Bria after an endless road of issues. That road has come to an end now, and we're very happy with Bria.
``Secure, reliable softphone``
I have been using Counterpath products, including Bria, for nearly five years. It is a great, solidly performing, secure softphone. I love that Counterpath is always on top of updates and security patches for their product. This is my number one priority for a softphone. Bria is affordable, lightweight, and easy to use.
Technical Specs & Resources
Start Communicating with Bria
Download and try Bria for free! No credit card information required.
Start a Free Trial