Empower your workforce with communication tools for the modern business.
Powerful Softphone
Features for Unified Communications
Bria Enterprise provides desktop and mobile softphone applications that facilitate best-in-class calling and robust call control features. Whether used for inbound or outbound calls, Bria makes it easy to integrate contacts from various sources, streamline communications, and manage calls from one easy-to-use interface.
More on softphone features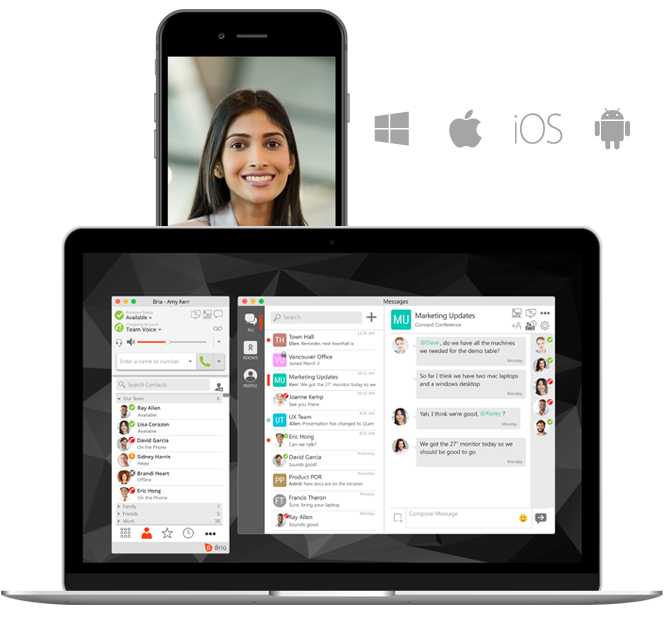 Select and integrate with market-leading call servers or VoIP services
Easy, Streamlined
Management
Leveraging CounterPath Stretto™ Provisioning, administrators can easily deploy, configure, manage, and update Bria applications from the cloud. Once set up, all users have to do is enter a username and password to start talking, reducing pain points that were once common with VoIP softphone business solutions.
More on provisioning features
Presence and
Messaging Services
Enhance and create efficiencies by offering workplace messaging and presence. Users can see presence in real-time and get in touch using the communication method that makes the most sense. Plus 1:1 and public and private chat rooms can get answers faster than email threads.
More on messaging features
Extend Calling
on Multiple Devices
With apps for Windows and Mac desktops and laptops, as well as iOS and Android smartphones and tablets, Bria Enterprise provides a compelling solution for organizations looking to keep their teams connects in and out of the office.
Why do enterprises
and end-users love Bria?
Bria is a secure and reliable UC application that integrates with organization's existing IP-PBX infrastructure. Enterprises have facilitated large-scale remote working initiatives with Bria as end-users can access their phone lines, address book and video conferencing from anywhere they are.
Technical Specs & Resources
Interested in Bria Enterprise?
Get in touch with our team for a demo today.